Hello Everyone!!
Welcome to my blog,
If you are reading for the first time, I do "My Closet Mondays" every Monday night and give you a look into my closet and my cheap shopping finds..
I didn't go shopping this week for any clothes...BUT I did do a little makeup shopping && basic necessity shopping!
I went to Sally's today and bought some bronzer, pigment eyeshadow, and 3 eye pencils...
They are so pretty and give off the SAME exact pigmentation as your MAC or other expensive products, of course MAC is great, but Miss Alex ain't got MAC money! :-)...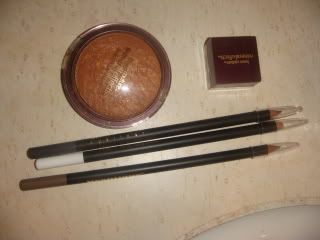 Mineral Effects Bronzer
"Tropic Touch"
Price: $7.99
Mineral Effects Pigment
"Sandy Beach"
Price: $5.99
Eye Pencils
"Smoke"
"White"
"Blonde"
Price: $1.99 each
Sorry, I dont have more for you guys today!!
But stay tuned because tomorrow I am going to do another Make-up Re-created Look!!
MUAH!