Hey everybody!
Hi new followers!!! :-) I SEE YOU!!!
Hope everyone's holiday was wonderful!
I'm so stuffed off of leftovers, it ain't even funny! LOL
Anywhoo, I know I have been promising hauls and things, but I have been soooooo busy now doing music and trying to find a J-O-B! LOL
I am gonna try to post more often, so I am sorry!
I'm headed out of town today, so I wanted to do a review on this NYX Glitterati Glitter Cream Palette...
I got mine in the mail about 2 weeks ago from
www.mscuppycakes.com
for $10.00, $2 less than the NYX website, and I absoulutely love this palette. The only problem is that with glitter comes a whole lotta mess!!! It gets everywhere and its hard to get off! Other than that, the colors are very vivid and the creamy texture underneath helps the glitter to stick to your eyes..just be careful not to get glitter into your eye! :-)
Here's the palette: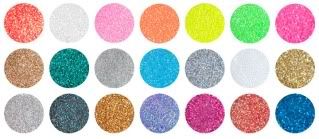 The colors look exactly like this..very bright!
If you order, or have this palette, post it down there and give me your review!
MUAH!!!