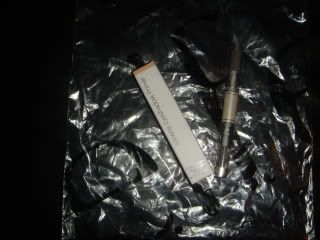 Mineral Eyeshadow Primer:
GREAT CHEAP FIND!
If you do not want to pay $20 for primer, this is the NEXT BEST THING!!!
I LOVE THIS PRIMER!
I'm not taking anything away from any other primers though, but this works great for me!
It goes on smooth and your makeup last ALL DAY LONG, I mean, I saw absolutely NO creases by the time I got home this past saturday when I used it for the first time!
GREAT PRODUCT!
Eyebrow/Eyelash Gel:
I use this for when I dont wanna wear mascara but want the same effect! LOVE IT!
The eyebrow gel really lays down your eyebrows before you fill them in!
MUAH!