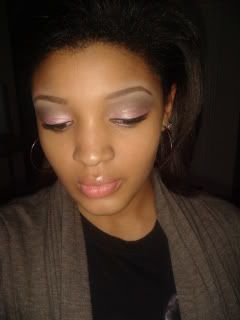 I decided to splurge on some makeup ya'll!!
$21.11 on M-A-C Mineralized Duo Pink Split
(YES! it is a splurge! LOL)
I am in LOVE with this eyeshadow duo! I love pink eyeshadow and frosty looks. This product gives me both! If you don't have this duo, GO OUT AND GET IT!!
Any whoo!
Here's what I used:
FACE:
M.A.C Studio Stick Foundation in NC42
Starry Concealer in "Beige"
E.L.F HD Powder
*NO BLUSH*
EYES:
E.L.F Mineral E/S Primer
NYX Jumbo Pencil in "Strawberry Milk"
M.A.C Mineralized E/S Duo Pink Split
N.Y.C Liquid Liner in "Pearlized Black"
Victoria's Secret Beauty Rush Mascara in "BLACK"
BROWS:
NYX Eyebrow Cake in "TAUPE/ASH"
Lips:
NYX Lipgloss in "Taupe"
((My look from Saturday Night using PINK SPLIT))