I bought this palette from a store in West Oaks mall last week called IMAGEZ (see "NYX and MACY'S HAUL!") There was a WIDE variety of these palettes (different ones). They are very pigmented..I haven't used this palette yet but I can't wait to! :-)
Here is the palette and some swatches!!
Swatches w/ NO BASE or PRIMER underneath!!!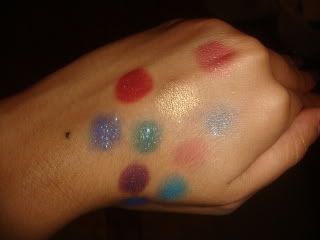 You can also find these on CHERRY CULTURE for $2.99 each!
The ONLY thing I DON'T like about this palette is that there a 3 red colors and I am not a big fan of RED eyeshadow! :-(
Other than that, its a STEAL and very good beginner shadow palette!
MUAH!!