Hey everybody!
I picked up ALOT of makeup and accessories this past weekend at various stores!
Me and my family went Christmas shopping and I just had to get myself some early Christmas gifts! :-)
I bought these falsies at the dollar store on Friday! I'm in love with the lashes at the bottom, I used them in my eye look on Saturday when I went out. LOVE these lashes!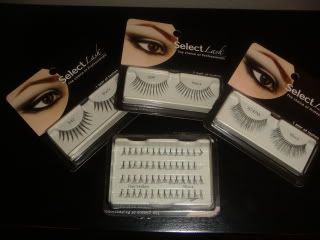 Select Lash
Falsies
Price: $1.00 each +tax
Very natural and perfect for any occasion!
I never really wore false lashes before but as I keep reading makeup blogs and things, I had to try them!!!