CVS, whooo, let me catch my breath, they are having a 75% OFF sale on some of the makeup in the store. I've wanted the HiP Shadow Paints for a while now but they were always expensive to me ($11.79). I got all of these for ONLY $2.99 EACH! CAN WE SAY BARGAIN!!! *audience says "BARGAIN!"*
The lady at the check out counter told me they were discontinuing these and that I got them in the nick of time!!! I was super excited!!
I haven't tried them yet but when I do, I will give a review! :-)
I also bought this liquid liner from Milani: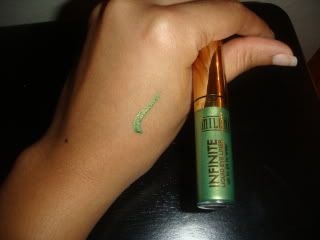 GORGEOUS!! this was $5.99
GRAND TOTAL: I spent about $18 + tax! (with my CVS card)
I love saving money!!
MUAH!!